FRE #18 Nambucca Via…….
Canberra. Yep you read it right, that's what we FarRiders do.
I ran out the door of work Friday and obtained my start docket from the local ATM with a stamp of 3:14pm, excellent. Then straight on the M7 to the Hume Highway heading for Canberra.  The blue sky had disappeared and turned nasty and proceeded to rain on me. Quick stop at Pheasants Nest to don the wet weather jacket and brave the elements. Cleared by Marulan and had a really good run all the way through to the BP & roundabout on the Federal Hway. Fuel for Angel and a meat pie and we are off again. More rain and clears at Marulan and a good run through to Pennant Hills for yet more fuel. On yer bike girl Mum & Dad are waiting for me in Lake Munmorah. Pull into their drive at 10:30pm on the knocker with 649.5 kays done.
Mum & Dad wish we luck and farewell Saturday morning and I'm off heading up the freeway. What a beautiful morning, sun shining, minimal traffic and Angel's purring so all is good in the world. Bopping along to my music and I discover what a fabulous singer I am in my helmet to both kinds of music – country & western…lol. Here I was thinking next stop BP Port Macquarie but all the water I've been drinking and 25kays just seemed too far. Quick stop at Tom Kats Rest area….ahhh and get going again.
Pull into the servo and see Ed, Rudy, Christine and the 3 FarVirgins with them. Hellos all round and they are off with me not far behind them.
Just cruising, gotta love it. I remember my work colleague has set me another task – find a Pelican. I thought that's too easy Toura…LOL but no I couldn't do that (I haven't even met Pat yet) so my eyes are peeled for my prize. Coming into Kempsey and I see John (on his Bonneville) swap plans and we travel to Macksville together. We wave each other off and I head straight to Nambucca. No Pelican in sight I thought "I've failed" but when I take the Nambucca turn off just down the road I find my Pelican. To anxious to get to The Wall I ride by, I'll get it on the return.
Arrive in plenty of time with Charleen signalling me into a spot..Thanks.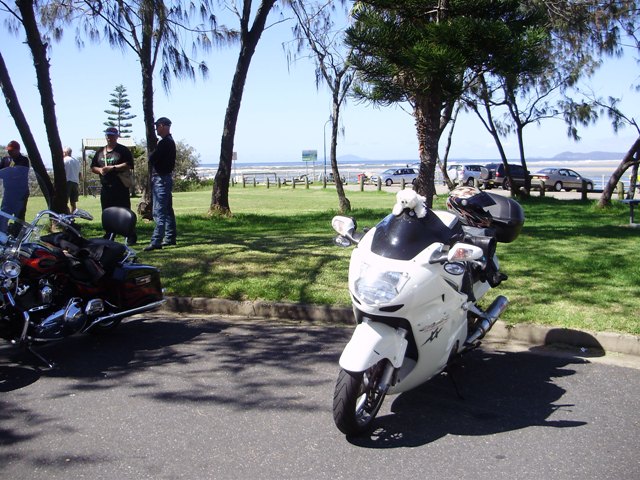 Socialising, a quick drink and look it's check in time, YAY!! Docket with correct time & date circled with said 1058.4 kays done and dusted. FarRide East #18 completed.
Caught up with Anny for lunch before she headed off, a bit of socialising, checked into my cabin and decided the water in the lake was way too inviting to say no too. So I went for a swim….ahhh lovely. What a way to start the evening.
How good was dinner…hey Mel – YUM. Will have to come back just for that dinner again.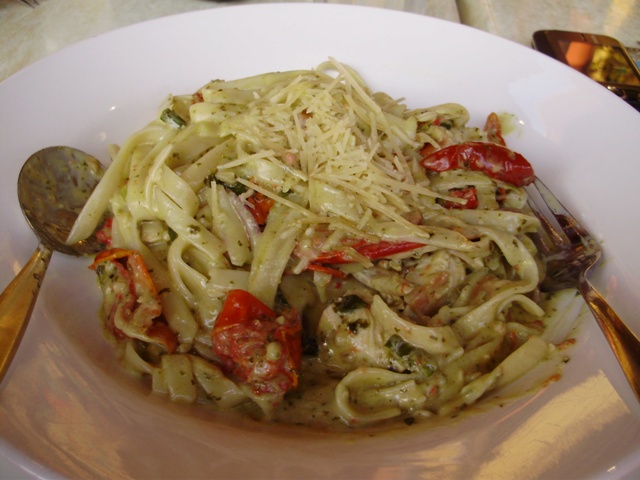 The night is too short on a FarRide when you try to catch up with everyone. Before you know it the tavern is closing and it's good nights all round.
Sunday 6:00am rolls around and it's time for me to get going. Stop for the Pelican photo on the way out and then cruise along watching the sun rise….glorious.
I've got breaky with a friend in Kundabung. Turn onto her gravel road and consequent gravel driveway at 7:15am. It's great to catch up with old friends when you have the chance and what better way than to make them apart of your FarRide. On the road again and what a beautiful day…. it's too good to pass up the Oxley Highway.
Got stuck behind a couple of Harley riders which were slow even for my measure of slow. Managed to pass them just before Gingers where I stopped for a short break. I love the section of road from Gingers to Walcha and the day couldn't have turned it on better for me. A great run and once I'd filled up in Walcha, a couple of fellow FarRiders pull in (sorry don't remember your names). We discuss which we are heading and are all heading down Thunderbolts to Gloucester. I say hooroo and head on my way.  I was pleased to see that they are working on Thunderbolts and sections of road are great until you get 30km north of Gloucester.
It's so hot, I'd drunk ¾ of my camelback and have to stop for a refresh break and bite to eat. Not much happening until just before the end of Bucketts Way, where there a few trikes pulled over and fire trucks and police are all over the side of the road. Not sure what happened but went through nice and slow.
Stopped at Heatherbrae and it's so hot I thought I was going to melt. Sought refuge in the air-conditioning of the servo for a few minutes while I text Karl – home soon sweety!! It's all freeway from here home and relatively easy run. So looking forward to getting home to Karl the kays just go by and in no time I pull into the drive. Home, Rule #1 obeyed and a total of 1762.6 kms for the weekend knocked up. Not a bad effort.