After a fabulous feed at the Goolgowi Ex-Servies Club, it's time to get on the road again and pump out another 400 kays. What for I hear you say…….well there is a birthday party that I need to be at in Tintaldra – "naturally". The humidity is oppressive and I am struggling with not enough sleep but I take the precautions I need and head back over previously travelled roads to get there.
A short stop at Waddi Roadhouse Darlington Point to soak myself to bring the body temperature down and refill my camelback. The heat of the day is climbing still but the humidity is relentless. A beeline for the turn off to Collingullie which takes me through The Rock, Henty, Culcairn before turning east and heading for Holbrook. Dudley loves the country roads and now with the oiler feeder temporarily fixed, I can focus on keeping myself fixed.
On days like this the camelback is an essential piece of equipment. Drink, well sip actually, even if you don't feel you need it…..your body will thank you for it at the end of the day when you get off. Feeling pretty ordinary when I pull into Uncle Leo's Caltex Holbrook, heads pounding and the humidity is killing me. Another dousing and some Panadol, message Karl and the birthday crew with my eta and off we go again.
Once you leave Holbrook and head east it's apparent the fires have touched this area. Charred and blackened trees are all around, paddocks are scorched while some stand green as green can be…..how it can be so precise is just beyond my comprehension. The best way to experience this country I reckon is to take the minor roads that have you weaving your way through farmland, forestry and mountains, watching the farmers work their crops, livestock or more so of late due to the fires, rebuilding fence lines and shed for feed. Your heart goes out to them and all they've been through.
Keeping a nice steady pace and it's not long before I come to Jingellic. Lovely sight to see campers back and the river up (not to normal but more than it has been) across the bridge and into Victoria heading for Walwa, then Tintaldra. The air has changed, smells different…..still the burnt smell lingers but mixed with the fresh aroma of new vegetation and water – yes you can smell water, but the view of the devastation that the fires bought to this area is upsetting. The hillside has collapsed in one area and part of the road is closed (traffic light system in place). And she's coming round the mountain here she comes….winding my way around and watching the scenery change, the livestock with wide eyes (can only imagine the images that taunt their minds) as I approach Clarkes Lagoon. Visited here at xmas, now the land is scorched, the sign melted but new foliage is apparent everywhere you look.
6km to go and that sense of being home beats hard in my chest and Dudley is feeling spirited. That final turn onto The Back Rd and into the caravan park and all is good in the world. Friends are gathered at the camp kitchen, so glad to see them all. Up to the cabin, unpack, shower (feel human) and join the festivities.
The pub for dinner and a well-earned Ginger Ninja, socialising, birthday wishes and generally just chillin' out. The night descends fast and likewise my energy levels and it's time to get into bed.
Happy Birthday Mellie & Daddy Bryan!!! Hip Hip Hooray!!! Thanks for allowing me to celebrate your specials days with you!
Sleep came easy and waking came all too soon…argh. Could've done staying the day or grabbing a bit more sleep but I have to get home to Sweety. Packed, cuppa tea, breakfast and chit chat and before I knew it was 8:00am. Wait for most to wake and mosey down to the camp kitchen to start my farewells before heading off. Got away at 9:00am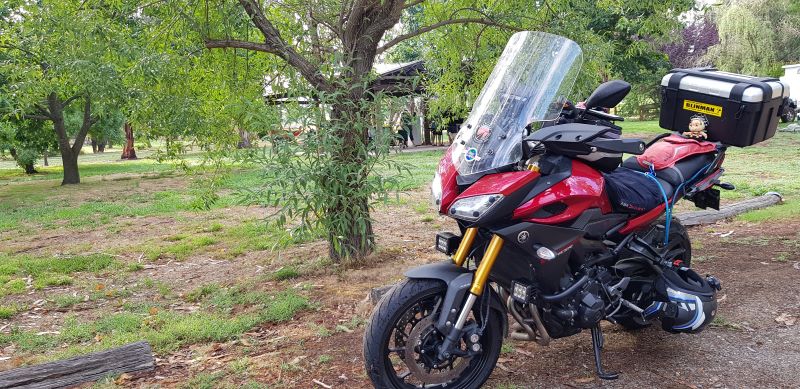 Home the quick way but not before the obligatory stop at Southern Cloud for that photo.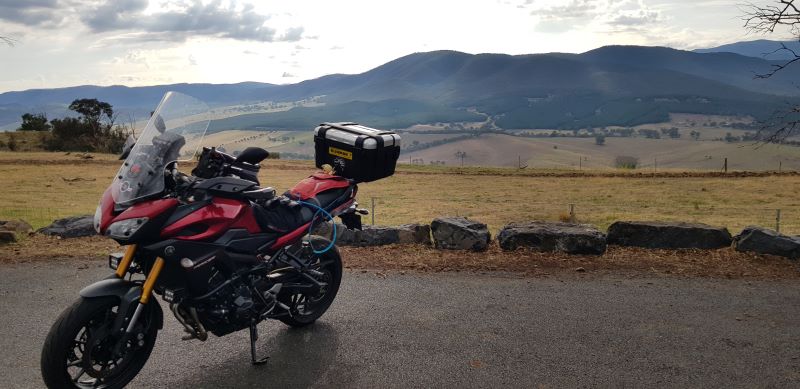 Mother Nature is hard at work in this entire area repairing herself.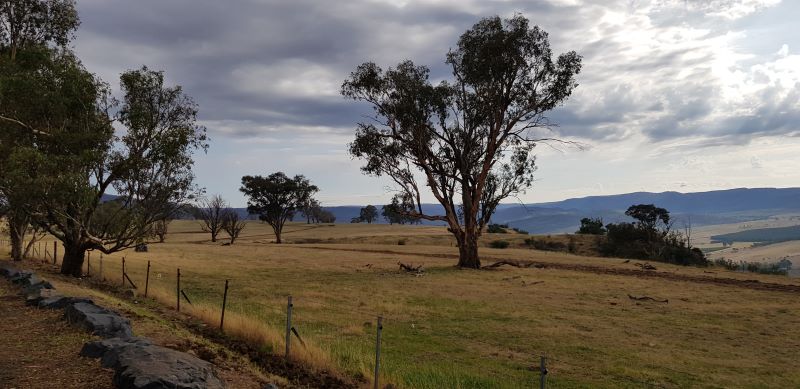 Temperature today is much better almost perfect riding weather and Dudley and my hearts sink a little as we leave this area that has so entrenched itself into our hearts.
Through Tooma, into Tumbarumba, Batlow and Tumut again the evidence of the fires is very apparent and again Mother Nature is hard at work as are the locals and volunteers rebuilding what once was….bigger and better.
Out onto the freeway and it's an easy run home and into the garage at 3:40pm…..not bad for a late start.
Full trip track for the weekend – 2010 km for the weekend