Ella's never been on a holiday, a real holiday (well except going to Nanny & Pa's). Friends of ours Phill and Kim asked if we'd like to join them at Easter camping and they were taking their boy Ninja with them, so we thought it a great idea to take Ella-Jane away on her first ever holiday with mum and dad – and why not camping!!!
Destination is Windeyer about 33 kays out of Mudgee (literally in the middle of nowhere).
Our camp site
Not too shabby. Now as you can see Ella has made herself comfy on my chair…hmmm.
Phill, Kim and Ninja just across the grass
Their setup is just a little more flash than ours….lol
As you can see, Ella has settled right into the camping scene – making herself quite at home at the table, enjoying the conversation……."what was that dad….don't let mum catch me at the table".
Lucky for us Ninja and Ella-Jane got on just fine….well until she growled at him..oops.
A chilly night but the owners commandeered a fire pit for us….toasty!!
Off to bed and surprisingly Ella thought it was great. Of course she took up most of the sleeping bag curled up in a nice bundle down my legs……can't remember if that was before or after Karl had evicted her from the bottom of his sleeping bag.
A crisp morning, the boys have the billy going for our morning coffee. In a paddock at the end of the caravan park are some sheep. Ella was a bit inquisitive yesterday but today hmmm.  Karl lets her off the lead (she'll be right – famous last words) and she's off…..oops. "You go get her"….yep you guessed it, she's through the fence and off after the sheep….LOL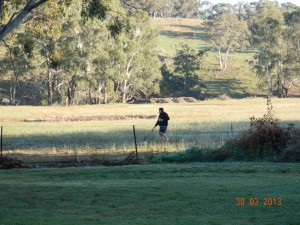 Here's Karl bringing her back, like nothing had happened.
Yummy breaky of bacon and eggs on an English muffin and coffee – the good life!! Then it's off for some touristy stuff.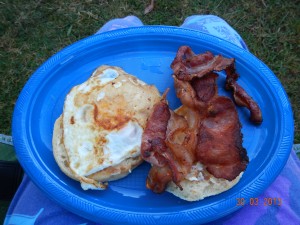 The Honey Haven
New things for Ella to try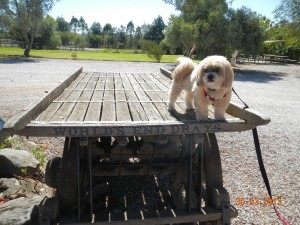 Somehow, I don't think she has the muscle to pull that cart….but she had to try!
Then onto lunch at the Blue Wren Winery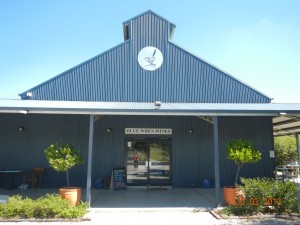 What a beautiful day for an outside lunch..
A quick stop at Peter Van Gent Winery. Must say Ella and Ninja have been excellent visiting all these places.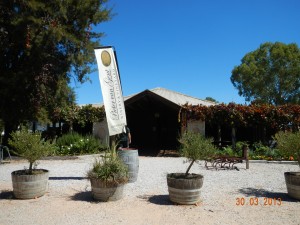 Then we're off back to Windeyer for a restful afternoon. On the way Karl & I found our first home, with lots of yard for Ella to run around in.
Just needs a little bit of work, but she'll be apples!!
Windeyer Rd is home to an interesting array of art at the front of someones property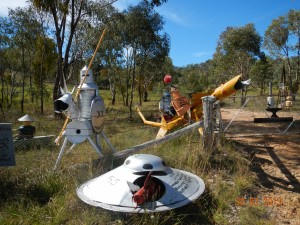 Back at camp we kick back with cheese, bickies, dip, nibblies and of course wine before having an afternoon nap…as you do. Sitting round the fire again chatting away and enjoying the peacefulness and it's amazing where the time goes.
We had rain last night, not much just enough to make things wet but not soaking. I get a sleep in…ahh and Kim and the boys have got breaky started already. Ella's happily wandering around on her lead with Karl but he decides to let her off again. Words of warning from me "you know she's going to head straight for the sheep and you know where you'll be going". Karl "no she won't, she'll be fine" (famous last words, again) – she's off like a rat up a drain pipe after them sheep. She didn't even stop for the fence this time she went straight through into the paddock. Anyways, here's the result…
 I remember you guys from yesterday.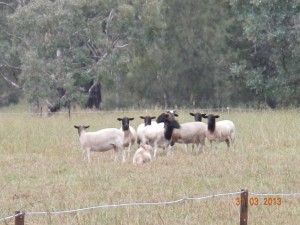 Let's play………
Chasings……YAY!!! I'm gonna catch you if you don't run faster than that…..lol
Well, I've turned you round, now what to do…..
Better go back to dad, before I gets in BIG trouble.
As you can see, Ella-Jane had a ball. It was great to take her away with us and we'd do it again.
Thanks Kim, Phill & Ninja for the invite – we all had a great time and laugh, haven't laughed so much in ages.
Our annual pilgrimage to Tintaldra – a culmination of 3 states, 3 forums and a world full of personalities.  It started 6 years ago, of which Karl and I have attended for 5 of them and met some wonderful folk that enjoy our past time of motorcycle riding.
We have an international inclusion this year with the presence of Patrick (a family friend of Karl's from Germany). Friday 8th March, 7:30am we are ready to roll . SPOT is a goer and flashing away. First stop Pheasants Nest for fuel and to see how Patrick is settling into his new ride a BMW GSA650 (800) *thumbs up*!
Very uneventful ride all the way through to Hume, ACT where we stop for a short break and check in with Andy to see whether he's joining us. Unfortunately, it's bad news from Andy and he is stuck in Canberra with a busted bike – not the best way to spend your birthday weekend – sorry you missed it mate
The cry "let's go" rings out and we are going again. As usual Karl runs front and I run the rear making sure that Patrick is safely in the middle. Patrick's doing ok considering he hasn't done a lot of distance riding. Here's Patrick heading out of town.
Long ribbons of tarmac lead us into a beautifully warm Cooma. What more could you ask for! Fuel and I wanna get to Adaminaby, but we ask Patrick what he'd like to do and we decide to stop for lunch. SPOT is still tracking (well the lights are flashing anyway) so let's hope my long distance (LD) friends are watching. Ready to leave when the other group from Sydney (who are joining us for the weekend) arrive. Goodays and introductions are made but that road, my favourite is calling – I can hear it!!  I tell Karl "I'll meet you in Adaminaby at the fish".
Snowy Mountains Highway to Adaminaby should be called Kimmie's paradise. Going going gooooone!!!! Smooth surface, sun shining, slight breeze, rocking away to my music and on song with Angel as we caress each twist and turn of the black ribbon we are riding. A few Aussie road blocks are overcome and it's no time before I roll into picturesque Adaminaby and pull up at the newly restored trout. A photo opportunity and stripping of layers as the temp is rising. Gods country, I tell you.
We take a few pics for Patrick I don't think he's seen anything like this and time is ticking (not that we are in a hurry) but these roads…well…… Into the Kosciusko National Park and for years I've past this sculpture and each time thinking "I must stop and get a pic one day" well one day happened finally YAY! I'm still not sure what it is, maybe another day I'll take a break there and find out…lol
The boys are gone and it's time to play catch up. We wind our way through the beautiful picturesque National Park before a regroup at Tumut Ponds. Patrick is doing really well but sends Karl & I ahead. Mate you aren't holding us up, ride where you are comfy at and if we want to overtake you we will.  Nice steady pace, light, shadows, leafy litter adorn the road as we rise and descend through the park and before you know it it's into Corryong for some shopping. "Schnapps" says Patrick. "Mate, go for it, if that's what you want".
Into the driveway at Clearwater on the Murray Caravan Park- Tintaldra  and time to unload, kick back and wait for everyone else to roll up. It's good to see everyone again and have a few drinks. We receive a message that Eve has broken down in Jindabyne and she & Eamonn make the wise decision to stay overnight and have the bike repaired then head on down the next day. The rest of her group will meet us tonight, just a matter of time.
Rick and Eilsa have a fabulous roast dinner in the rotisserie going for us, so it's time to take the first timers up to the Tintaldra boarder crossing on the bridge over the Mighty Murray River.
Now you can't come all this way and not admire the peace and serenity of this area of the country. View from the bridge just before sunset.
A great night a reminiscing, learning about your new friends, drinking, laughing and of course story telling was had. But it's time for some shut eye cos tomorrow we have riding to do on some more great roads.
Saturday 9th March 13.
Bacon, eggs, toast, tea, coffee, the breakfast of champions ready for a day of twists and turns.
Who paid the weather gods?  THANK YOU cos we have a magical day in the weather department – awesome!!! Our plan for today we decided on last night, Corryong, Granya, Jingellic, Tumbarumba, Tooma, Corryong and back to Tintaldra, an easy days ride but for those that aren't used to back to back distance in the heat it can be tiring.
Patrick is settling into the group and considering he hasn't ridden roads like this before is doing really well. Corryong for fuel and a nice steady pace out along the Murray Valley Highway to the turn off to Granya where we have a regroup and I swap corner marking duties with Brian and wait for Don. Now Granya Rd is one of those "must do' roads. This time we head south to north and I'm not disappointed. The recent rains have provided much needed moisture and the fields are green and the Murray River is looking beautiful! Weaving through the mountainside, Angel purring and we lean in and hug the curves of this magical road. A regroup in Granya and one of the locals decides he wants to say g'day! LOL
Heading on Murray River Rd with the Murray River running alongside us, through Thologalong and this is what you see……….
I love this section of road, open sweepers, beautiful scenery and great riding buddies and we are heading towards Jingelic. Crowey & Mark are marking the turn off (it's easily missed) and over the rise I almost have trouble hauling Angel up to take the turn…oops…he he he.
Over the bridge and onto Linden Roth Drive, next stop Tumbarumba for lunch. It's warm and I know I am at least looking forward to lunch and a rest, hopefully Patrick is enjoying his day of riding and the new friends he has made. The 4 Bears Cafe is our destination for lunch and you can't not have a photo with Big Ted.
I think Patrick was  surprised at the cafe – not something I'd imagine you see in Germany.
A yummy lunch is had by all.
What was the Esther?…….I couldn't quite understand what you said with that mouthful of sambo…..lol (I know I will pay for this later – payback is a biatch).
Our group splits up after lunch with half going to enjoy themselves on the inviting Elliots Way and the rest of us decide to head back through Tooma. Karl and I are trying to show Patrick as much as possible of the fabulous roads the Snowy region has to offer. Tooma is looking luscious and the views are spectacular. I'd said to Patrick that we'd take him to this lookout that we found last year cos the views are breath taking. We pull into the carpark of the South Cloud Memorial Lookout and here is the reason why….
It's a bit warm and we take a few moments to draw in the magnificent views, have a drink and Patrick mounts the Jeep (thinking of an upgrade from the 800)…hmmm.
We all arrive back and are pleased to see that Eve & Eamonn have made it safely. Drinks, nibbles, tales of the days ride from everyones perspective and relaxing…..ahhhh excellent.
The crew of Tintaldra 2013 – from left to right
Back row: Don, Patrick, Anto, Karl, Eamonn, Mark, Esther, Eve, Marvin, Joy, Sue & Bubba        Front row: Joy, Ree & Me (Crowey is missing, something about "gone fishing").
Sunday 10th March 13
Fabulous nights sleep, a crisp morning and unfortunately, sadly today we must leave our little Snowy gem. Hang on a minute, not before another hearty breakky for champions though…lol.
We say our fare thee wells and Karl, Patrick and I head off to tackle The Alpine Way. The air is crisp and I open my visor to take in the aroma of the country air…great start to the day.  A stop in Khancoban and we brief Patrick about the magical road ahead.
We climb through the mountain, Karl and I are just cruising at an easy pace but as Patrick is not familiar with the road we pull ahead. The Alpine Way never ceases to amaze me each time I travel this road with the kaleidoscope of colours and shapes.  We stop at Dead Horse Gap (the highest point in the area, just before Thredbo) for the tourist pic.
Through Thredbo and onto Jindabyne where we stop for a break. What a beautiful morning. Oh no, Patrick has a wardrobe malfunction. The zipper on his ………..leather jacket (gotcha) has cross toothed and won't move. McGiver Karl to the rescue and we are off again.
A quick fuel stop in Cooma, then onto Bungendore for lunch at our favourite spot.
Great pies, sausage rolls and pasties!!
It's hot and humid and home ain't getting any closer sitting around. The last stretch seems to take the most time…..I still can't figure out why that is. Slabbing up the Hume Highway is boring but we are lucky there isn't a lot of traffic. Finally, we pull into the Mobil servo at Pheasants Nest for our final fuel stop……where Karl boasts his extraordinary range at 619 kays!
It's here we say our thank yous and good byes to Patrick as he is going to head straight back to his Sydney home instead of dropping off at ours on the way.  Into the driveway and there is no place like home.
A great ride with great friends, great location, great hosts and lots of new memories and lots of laughs = fantabulous weekend!!!
p.s here's our more relaxed group photo….spot the cheeky one!!! LOL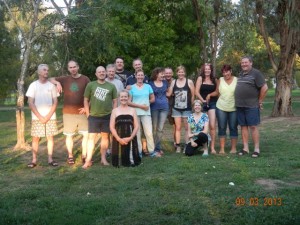 Nambucca Heads FarRide is commonly known as Wetbucca, it didn't rain in Nambucca Heads but read on….
Plan A done. Then places start to flood, start re-looking at the plan and I also wanted to meet up with Diesel & Streak in Bendemeer and ride into Nambucca with them so co-ordination of the Plan B & C began. Last minute touches and consultation with Diesel and Plan A is a goer…YAY. Thursday morning Karl also says he can make it so I book a double room where he will be waiting for me to arrive.
Friday 1st Feb – grab a coffee folks
Karl sets off at 8:00am – "see ya Sweety, ride safe….kisses".  At the servo on Wicks Rd waiting, waiting for the hands of time to tick over to that magical 12:30pm  start time when I can head off…..fuelled, docket, done…..GONE!!
Traffic, where the hell did it all come from, it's a conspiracy I tell you. It's cloudy but should be ok and headed through Nth Richmond and started to climb Bells Line. Then BAM, the rain started, light at first – that's OK, then oh no, those aren't raindrops (raindrops are little) they're missiles pelting the absolute crap outta me….ouch.  Had to pull over at Mt Victoria to change visor and I could tell I was wet on the inside – not nice. Visibility had been reduced to a cars length, there were torrents of water across the road and trucks, long haulers on the road all making the first leg, well difficult.
Into Lithgow and fuel then off to get outta these wet clothes, yep I'm soaked to the bone and cold. I decide to push on and re-access in Bathurst. Thankfully out the other side is a rainbow, well blue skies – Yippee!! Hopefully I'll dry out.
Love the sun and at Wellington Caves pull over for a FarPic and take off the wets from underneath the now dry jacket and don a dry jumper. The wind is picking up but that's ok. Ring Karl "running behind already, hopefully I can make it up".
Times a tickin' Kimmie, crank it up! The roads are dry – beauty, but a bit windy and it's not long before I roll into Narromine just over an hour behind the eight ball (7:10pm)….damn.
Feed Angel, feed me, ring Karl and no time to waste "let's go". Let me introduce you to George here. Now George is the GPS, who I rely on probably a little too much but none the less I don't leave home without him. Follow George and the sign to Warren and travel up this beautiful road with field grass up to the roads edge but it has a centre line so all good. End of the line and George says turn R then hard L "GO". About 10kays up the road my gut tells me George is wrong, consult the map and Crikey, I remember this road on Goggle Maps and there's dirt – not for this little black duck – U-turn and head back and head west for Trangie. Eventually I'm back on the Mitchell highway (which I now realise I should've just followed outta Narromine) and head for Trangie, Nevertire turn R and into Warren.
It's starting to get dark and in the distance I am watching this magnificent lightning show and almost like a light going out, it is. ALL Angel's lights go on about half way to Gilgandra and I'm still dry – YAY! Not a lot of wildlife but I was so on the alert and thought I'd taken a wrong turn…again. The cracks of lightening opening up the sky are like a smashing glass bottle in the sky – spectacular. Consult the map in Gil, all good continue on, but I notice the lights dim a bit…..ahh it's probably just my mind playing tricks on me, out in the middle of nowhere, on my own, what possibly could go wrong!
Think too soon about how good the weather has been and it's raining again. This time I'm prepared and have the wets on OVER the jacket but have my reserve summer gloves on. Lights a blazin', it's amazing how much I can see (thank goodness), the foxes, hundreds of feral cats (whose eyes at first I thought were the red roadside markers…oops), mother of a huge wombat and one small wallaby and rain. Rain that looks like shards of glass heading horizontally towards me, feels like tiny pins hitting my jacket and helmet.
Need a break and into Coonabarabran for fuel and a muesli bar. Fuel up, feeling good, check in with Karl (wake him up), chat to a few car loads of blokes who have come from Tamworth and advise me it's pouring that way – great *sigh*. On your bike Kimmie, turn the key and nothin', crap. Try again and nothin, Angel's dead as a door nail. Ring Karl (wake him up again), tell him the problem and he says "well what do you want me to do, you have your jumper leads, so.." Yep you're right Sweety, I got this. A lovely young couple out for ice-cream give me a hand and Angel's running again – thanks heaps.
Nearly 2 hours behind schedule and several thoughts of pulling the pin go through my head. However in true Kimmie style, I make the decision to just assess things as I travel. On the road again and into the shards of rain, the Oxley Highway is becoming unpredictable. With no spot or flood light and low beam non-existent, I only have high beam to run on, so steady as we go. To top it off, I discover if I run under 109kph Angel starts to stumble a little.
How badly have the floods from Coona to Gunnedah damaged the road….enough to make it that hard to distinguish the edge of gapping holes filled with a ravine of water. Road work sign became the norm and slowing down was not a joy. However one section said road works 60 kays, slow down to 60 see the patches over the road hit it and god damn, it's all gravel, wet muddy gravel and Angels front goes out – crap – NOOOO not now – hang on girl! We ride the wave and decide to run the wrong side of the line slowly dodging what was the worst road I've ridden on.
Into Gunnedah and had I seen a light, any light on in the town, I'd have bought a room somewhere. Anyway, I take a deep breath and instead watch the spectacular light show that I appear to be riding straight into. I'm so close and still have my wits but have been chewing the kays over in my head. Tamworth couldn't come soon enough and I make the decision to get fuel now and forgo breaky with Diesel and Streak in the morning. It's 12:50am, still raining and Angel fires first go (thanks girl) and into the night I go for the final 41kays to Bendemeer.
Trucks are everywhere in this section and the road is windy and slippery, so steady going. Finally into Bendemeer, park Angel in the garage and go and find Karl. At 2:00am I walk in and Karl is the best sight for tired weary eyes and an exhausted but pumped body. Sleep now….zzzzzz.
Day 2 – Saturday 2nd Feb 13
What's that sound, god damn alarm 6:30am…..grrrrr. Could do with a few more hours. Let Diesel know about the change of plan and Karl and I head to the cafe for breaky. Angel's battery is dead so it's push starts this morning and hopefully once we get going the battery will hold enough charge for the rest of the day.
8:00am on the knocker, Diesel, Streak & Saaz meet us up on the roadside. A deja-vu moment for Diesel when I tell him about Angel. All fired up, let's go!! We had a great little convoy 3x STeads, Jeep Jeep & Angel, a plethora of power between us reading to hook into this next section of the New England. Great riding, DRY roads and no traffic – brilliant. We stop at this quaint little coffee shop called "Fusspots" for a break and chat. Karl and I decide the best thing would be to get Angel a new battery so Karl headed off ahead to Coffs for medical supplies. Angels starts first go….YAY's all round!! In the meantime Frans passes us by.
I'd told Diesel he'd enjoy this next section of road and I don't think he was disappointed (you'll have to read his report for the verdict). Through Dorrigo and the decent into "heaven" – The Waterfall Way". I'd taken lead earlier and hoped the boys would catch me so we could do the decent together, but no. Down into the first section of cutting and the road is clear, clean, no traffic, just perfect….I'm enjoying myself just a little too much. I pulled over, spot Diesel, thumbs up – LET'S BOOGIE!!  What can I say, we caressed the curves down the Way on song. I didn't even have to see his face to see the smile. Change of lead and we continue. A short re-group and Streak summed that section up the best WEEEEEEEEE!!
Final stretch, a quick stop at the lookout – thanks Chris and into checkin – ON TIME!
I'd registered for my first 1200 and with my little detours (thanks George) I'd achieved 1219 kays in less than 24 hours.
I am met with many smiling faces and lots of hugs and the question "where's Karl?" Tell the story about the battery but before long Karl arrives and all is in order. Checkin – YAY!! now let the socialising begin. Well not yet, I had to get my gear off first….phew!
I think Karl has bruises from all the people pinching him to make sure he was real. I'd told you he was, but Toura just had to find out for himself.
Changed and back at the tavern for lunch, where we all have stories to tell. I love this part of a FarRide, catching up with folk you might see once or maybe twice a year. Sometimes they live just down the road but you have to go 1000 kays to see them….lol. It's all good!
A decent lunch, but time for a swim and a nana nap is in order this afternoon before the revelling of the evening commences.
However, Dr Karl says "we need to operate on Angel before the nap Sweety"..oh ok. Turned out to be a stator wire issue not battery. Temporarily fixed to get me home and now we have a new battery which will be used berry shortly in Birdy.
Socialising and dinner and the afternoon and evening is ticking away and so is my body clock. The Kimmie battery is tired and after several fabulous hours catching up, it's time to say our goodnights and see youse laters.
FarRider friends from Nambucca 2103
Day 3 – Sunday 3rd Feb 13 – The trip home
No early start, didn't even set the alarm couldn't be bothered. Angels wires fixed she started first go..YAY!! Met the ST gang out the front, said our farewells  and then headed off with no real plan other than to do the Oxley. The sun was out, the roads dry and I was riding with my BEST fella, so a good morning. It turned cold real quick though but thought I'll be fine and warm up. Anyways, we are off up the Oxley, Karl is long gone but I am just moseying up this morning. The roads are damp and a bit slippery but before long I pull into Gingers Creek dying for a hot chocolate and some raisin toast to warm up. We make a plan which included grabbing a coupla FarPics and heading south down the Putty then home – sounds good to me.
On the road again, with an extra jumper heading to Walcha for fuel (where my credit card blew the servo mans computer up…oops). Heading west still, we turn south at Bendemeer and head for Moonbi for my FarPic. Happy Kimmie. The New England Hway to Tamworth is not an exciting road, speed up, slow down, traffic lights and traffic…grrr so there isn't much to report here. Such a contrast to Friday nights ride. Tamworth was our lunch stop and the Golden Arches was quick and easy. Getting ready to leave, StevieB comes as says "G'day". We have a chat, discover we were travelling the same way til Scone so we had a little convoy happening. Friends on the road – gotta love it!
I think I read George wrong here and had Karl and I going through some back carpark to get to the Scone FarPic, but we made it and that's all that counts….lol. More fuel here and will get us home.
Through Singleton, then Bulga and the start of the Putty – home is in sight (well not literally). I just wanna get home and Karl is ambling along the Putty – What Tha??, you don't ride like this normally on this road. Anyway, I got annoyed, my butt was getting sore for the first time in I can't remember, so by the time we pulled into Grey Gums I was ready for a break. An exchanged of words, a short break and lets go, I miss our baby girl Ella-Jane.
I sat behind Karl for…….not long and took off, I'm outta here!! I love this section of road to Wilberforce and took advantage of it. Few cars going too slow and a rider well he was doing the limit but……..I'm not sitting here and goooone. The 80kph zone at Wilberforce was a reminder that we were approaching home, not long now.
So after 797 kays for the day Karl and I pull into the drive at home approx 7:15pm. There ain't no place like home!!!
Total kays for Nambucca for me 2016 – not bad.
Had a great time (again
) and when's the next one??
I couldn't not mention and congratulate the following Legend – Lionel. Well done on your completion of the FarChallenge, I bow to you!
Annual leave is booked but I have had my doubts that Karl & I would actually get away (the reason is a whole other story). Anyways, Saturday 29th Dec arvo rolls around and Karl says "guess what, we are going tomorrow"! YIPPEE!!! Oh no, I still have washing, ironing, packing and stuff to do. Frantic Kimmie swings into action / confusion / holy crap mode. A late night and Angel & I are all packed ready to roll in the morning. Wee Jasper and Tintaldra here we come!!!
Sunday 30th Dec 12
Kimmies going camping…la la de la la…lol
We only have to go to Micalong Creek Reserve today, which is about 6-8 kays south of Wee Jasper down a dirt road…..yep that's right dirt, what am I thinking.
Lunch in Yass at the Liberty take away (note to self – don't stop there again, it was pretty ordinary to say the least) and a stop at Woolies for some supplies before we head on down what turned out to be a beautiful piece of road to Wee Jasper.
The Yass-Wee Jasper Rd, what a hidden beauty. Not very wide but a decent surface that meanders through the countryside of grazing land.  Look, this is not a road for "carving it up" but one to enjoy and view our country. It's hot (not unbearable but uncomfortable) but Karl & I pull off the road anyway for a photo op.
Jeep Jeep and Angel with a beautiful backdrop while we check out the view on the other side.
Noice hey!!! It's like this all the way to Wee Jasper, breathtaking. Now, as you know I'm not a huge fan of dirt, any dirt but this road down into Micalong Creek isn't too bad (I'd hate to do it if it was wet though). Nice and steady and we get there, Phew and YAY!!! Now to find a camp site.
We find a nice spot under an old tree for our camp site and unpack our stuff, then kick back and relax…ahhh
In holiday mode
Now, this is my first ever time camping….can you believe that..wow! I'm excited. Micalong has NO showers but has a toilet (thank goodness, don't think I'd have coped otherwise), so it's off down the track to a swim hole which will be our bathing spot for the next 2 days.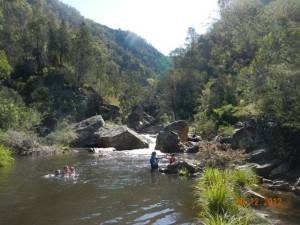 Pretty good hey!! After a lovely refreshing dip, it's time to head back so Karl can cook us a gourmet dinner. I hear youse saying "What tha", well don't think just cos we're roughing it we don't have cooking gear…taa dah
Curly sausage, bread roll and pasta salad for dinner, whalla !! Awesome! After a little bit of socialising it's time to hit the hay, ahm well tent..he he
Monday 31st December – New Years Eve!
What a crappy nights sleep! Look I wasn't expecting a 5 five star night (although the thousands of stars that graced the nights sky were beautiful) but some sleep would've been good. The mattress and pillow were hard and the god damn sleeping bag, well I got so kabooblelatted up in it, that I had to untie myself to get out – there's gotta be a better way. Anyway the day is gorgeous and Karl and I decide to do some exploring two up on Jeep Jeep and get ready and head off up the dirt road. I decide to take some pics from the back seat.
At Wee Jasper we took a turn up to Cravens Caves hoping to do a tour. However after dodging a few sheep and reaching the destination up yet another dirt road we find the caves closed *sad*. Never mind we turn around and decide to head to Yass. What a shame we get to view the meandering Yas-Wee Jasper Rd again…lol. Quick stop at the Murrumbidgee River Bridge crossing. The river is so dry, very depressing but beautiful all at the same time.
Into Yass, check in with the folks and find out how our baby girl Ella-Jane is doing , a spot of shopping for a rashy (so I don't get burnt) and then a spot of lunch in a lovely little cafe called Dolcetta Cafe (they make one of the best milkshakes I've had). Back to Woolies for some supplies for our NYE dinner tonight then back to camp for a relaxing afternoon. You know something, doing dirt on the back of Jeep Jeep you don't even feel the bumps, almost like sitting on a cloud…well almost.
After dinner we chat to our new friends and get some very important tips on our sleeping gear. With the advice taken on board let's hope tonight we get a better sleep. What a bunch of great people, seasoned ralliers and Karl and I get invited to at least a half dozen rallies in 2013…..sheesh, these folks are really passionate about them.
Will we see midnight, ha I doubt it. True to form we are in our sleeping bags by 10ish but hear kids laughing and running around, people with those rattler thingys  and then nothing, we are asleep…zzzz. Then I awake to hear 3,2,1 Happy New Year !!, rollover and back to sleep.
Tuesday 1st January 13
Happy New Year Sweety!!! Did you have good nights sleep, cos I had a cracker of one!! But alas, it's time to head out today. We pack up our kit, pack the bikes and say our farewells to our new found friends. Back up the dirt road to Wee Jasper where Karl and I part ways for a few hours cos ya see, Karl is taking the dirt road option to Tumut and I'm going back up through Yass & Gundagai. The Gocup Rd to Tumut is another nice piece of road and one I haven't had the pleasure of doing until now.
It's getting hot, the camelbak is getting a workout but before long I finally make it to Tumut where Karl has been waiting for me for nearly an hour. The dirt track was obviously a lot quicker. Anyway, after a decent stop it's off in search of my FarPic in Adelong, done.
Down through Batlow and into Tumbarumba (what another noice piece of road). Orchards flanking both sides, dark and light of the shadows providing pockets of shade and only one sneaky Mr Plod parked on the side of the road with his headlights on. Tumby for lunch and the town is full, chockas due to a Rodeo…Yee Haw!!! Only place open for lunch is Mountain Mac's take away. The heat continues to climb and I can't wait to get my gear off!! Lunch done, gear on (it's getting heavier) lets get goin' our friends Rick and Eilsa in Tintaldra are expecting us.
Here's a view of Karls butt…LOL from Tooma Rd. I hear those of you that aren't riders saying "why do you go all that way", well this is one of many roads that answers that question.  Breathtaking views, fabulous road surfaces and fresh air, what else could you want.  At Tooma (the town, well pub) Karl took the dirt road option and I well, took the bitumen.
My view approaching the bridge that crosses the flowing Murray River into Tintaldra and our destination.
I beat Karl into Tintaldra by a couple minutes…he he. Yowey & Fudge (the dogs) greet me at the office door followed by Rick….."gooday mate, long time" hugs. Me: "got us a good spot"  Rick: "the best Kimmie, take your pick"  Me: "thanks heaps, this is why we come here".
Campsite Karl & Kimmie – the best home away from home in Victoria. A refreshing swim in the Murray with Karl, a drink at the pub and say gooday to Alf, then off for a well deserved shower after not having one for 2 days…..ahhhhhh
Rick and Eilsa invited us for dinner and drinks with some other friends staying and we enjoyed a nice social night. An early warm night in the tent, under the stars with my favourite bloke in a place I love = one happy Kimmie.
Wednesday 2nd January 2013
Favourite roads and FarPics are on the agenda today. Khancoban, Cabramurra, Kiandra, then onto my favourite road from Adaminaby to the Berridale turn off. Open sweepers, a slight breeze, sun = great ride day.
We stop in Jindy for lunch, then off to grab my FarPic.
Down through The Alpine Way which never ceases to amaze me, it changes every time. Lots of leaf litter this time, shadows and oncoming traffic that think they deserve more of the road than me, make for an interesting ride.  Into Corryong and grab some supplies for dinner and lunch for the next two days. Hmmm marinated pork spare ribs and gourmet sausages with salad and wrap bread….this is the life! An easy day and back early afternoon to do some more chillaxin'..yeah!
Now, you're asking why aren't you in many shots Kimmie? Well that's simple……Karl doesn't do photos and someone has to take them. So there are a few bad attempts of selfies to prove I was actually there…lol. Massive winds gusts blew through this afternoon and we thought the tent was goin' to blow away….phew it didn't.
We met some new folk at the caravan park who are canoeing their way to the mouth of the Murray, what an interesting couple. We stayed chatting to them until bed time.
Thursday 3rd January 2013
Ahhh, sleep ins ya gotta love em when you can get 'em and we don't get them very often. It's our day off today, no riding just kicking back and chillaxin' – yeah!
Karl has arranged with Rick for us to take a canoe out on the Murray….YAY!!! I've never been canoeing. Ahh, well, this could be a really good thing or an absolute disaster, anyway hang around and you'll find out. With some helpful tips from Rick when he drops us off and the clear instruction to listen to Karl, off we go!!!
That's Yowie with us…woof!! He didn't come in the canoe..lol
Ok, so I'm like the Japanese tourist with a camera, the view from the front seat of the canoe as we just get started.
How tranquil, peaceful, serene, beautiful, exotic and but what else Aussie!!!  I reckon I'd have been better off taking a movie of the entire experience to explain it cos words just aren't going to do it justice. The river was ever so gentle today and for most of it we just floated but we did have to have a little paddle every now and again…well Karl mostly did anyways…see!! I was too busy – taking photos of course…he he
It was amazing to see the amount of wildlife on the river. Here's a swan, yep a swan "ready for take off"…. I just couldn't believe it!!! Totally breathtaking!
Lots of cattle adorned the shoreline and even came down for a drink….secretly I think they wanted a swim cos it was pretty hot. Probably the hottest day we've had so far.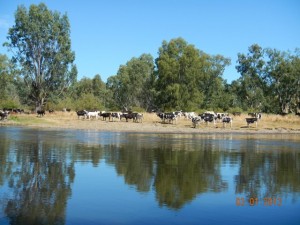 Here we pulled up onto a little beach for a break. This is the view from the bank – how gorgeous is it!

And I turned around and here's the view from behind me! What a bloody beautiful country!

During our day trip I kept asking Karl "do I paddle" and every now and again I'd have a bit of a paddle. Now I guess you had to be there, but after we got back in the canoe and we're floating and paddling a little bit we got into some faster water and Karl yelled paddle. So I paddled (as you do), then he said "turn it over" (well that's what I thought he said) and I did exactly what he said. I pulled the paddle out of the water, looked at the flipper thingy and spun the paddle round…..LOL thinking I had it round the wrong way. All I heard then was laughter and STOP, jab it in the water!!!!  This almighty splash of water covered me and then tears of laughter came down my face, while Karl was saying "what were you doing?". Well, "exactly what you said". Karl, "you dope, what did you think I said?", anyway you get the idea. Kimmie = numpty, with absolutely no idea but had a bloody fantastic time and together we had heaps of laughs and a wonderfully enjoyable morning.
Here's the view of the NSW bridge crossing the Murray as we come to the Tintaldra boat ramp.
With the canoe safely pulled up on the bank, we wonder down the road back to our favourite spot to stay.   Now if you are ever in this part of Oz, you have to go to Tintaldra and stay with Rick and Eilsa at Clearwater by the Murray Caravan Park. It's a beautiful spot, has nice clean cabins, comfy beds, good camping spots and is so friendly you just don't wanna leave. You can even take your dog! Yowie and Fudge would love it.
The rest of the day we spent just doing nothing really. A spot of Reading, napping, having some afternoon snacks and chatting to another family who are staying there for a week was so good. Sooo yep, this is how a holiday should be.
Tonight is our last night here, sad panda, and our lovely hosts have invited us to join them again tonight. Home away from home, what did I tell you. How could we say no, so with our dinner supplies in hand we wonder over, where Karl does what he does best and cooks on the barbie. Another lovely dinner was had, stories told, laughs were had and before you know it, it's time to head for bed.
Friday 4th January 13
No more sleep ins….whaaaaa!!! It's too early to be up, but we have to start to head home now. We'd said our hoo roo's last night just in case we didn't catch Rick & Eisla this morning. It's gonna be a hot one today so the weather man reckons and you can feel the heat in the air already at 6:00am!!
Our plan today, Mt Beauty, Falls Creek (for some FarPics), down into Omeo, Bruthen, Cann River (FarPic) before making our stop for the night Eden. So lets get on with it.
The road through to Granya never disappoints and the dappled light on the road shielded us from the biting sun. A quick stop at Old Tallangatta for a photo op then onto Gundowring Rd (the cow road I call it). Isn't it great when a road is just as you remember it (but without the cow poo..lol) but we aren't in a hurry and just enjoy the scenery.
With Mount Beauty in our sight so I could get a FarPic of the Chateau Post Office and have a rest stop….ahh! We roll into Mount Beauty and Karl says "it's 38 degrees", YIKES!! More water for the camelbak, grab the pic and we need to get moving to beat the heat!
Now up the meandering road to Falls creek, how god damn hot is it…have I mentioned that, how hot it is!! "Hurry up and get the pic I'm melting", says Karl – no kidding Dick Tracey!
I've never done the road over the top of Falls Creek down into Omeo. Karl has and said it's not the greatest and hard to read – he was right! The souring heat, the road itself not to mention the traffic was all starting to take it's toll. By the time we got to Omeo I was exhausted and hot and hungry and thirsty and hot and hot..did I mention how hot it was. 44 degrees in Omeo, are we nuts!! Still have mile to travel and hanging around isn't getting them any closer to home so off we go.
Nice roads, souring temps and Plod watching made for a tiring, interesting ride into Bruthen. Fuel and time for a stop. Can you believe this guy in the servo comes up to me and says "weren't you on ……. ride?, I recognised your bike". I recognised his face but had no idea who he was. Anyway Karl and I take a break in the shade at the servo and tried to lower our body temps. OK, let's go!!
Next stop Cann River but not before I get a massive body cramp which has me doubled over on the bike. A sign "cafe 2km" was the longest 2 kays of the trip. I get off the bike crying in pain. I don't understand, I've been drinking my water, I'd had a good lunch….whhhhhy! Turns out I've leached all the salt from my body (another lesson learnt here). A stranger who was fighting peat fires says to fill my camelbak with 1x powerade + 1 x water this will replace the salt and give me the hydration I require…thanks mate!! Turns out he knows FarRider Wingman (Des).
Snag my pic and we grab more drinks before making the last 100 odd kays to Eden.
We thought heading towards the coast it was going to be cooling, well you know what thought did. After a long hard days ride we finally pull into Eden and it's still 39 degrees! Karl, he's such a  sweety (I think he might love me just a little bit) has booked us a lovely motel room for our last night away – you are the bestest Sweety!! As much as I wanted a swim in the pool, I really just wanted to get out of my gear, have a shower and get a feed and relax.
Ahhhh, a comfy bed, air conditioning, and a telly, the realisation that our holiday is coming to an end.
Saturday 5th January 13
Up early and we head off to get another FarPic at the Whale Museum.
Then down to the wharf for a coffee before heading homeward.
Home today is via the coast road and hoping it's gonna be cooler today, but somehow I don't think so….ho hum. The camelbak is full Karl and I head off. Not much happening but by the time we get to Morooya I need a girl brake and I'm hungry. We stop at the little Caltex, grab a drink, some chippies and a little girl stop, ahhh.  It's warming up already and just getting through town was an epic saga. Massive traffic jam for what? No idea…shrugs shoulders. I can feel the sweat running down my skin inside my gear and can't wait to get some air flow. Phew out the other side and we get a move on.
Unfortunately, that traffic is gonna plague us for the trip home and with heat baring down on us makes for a loooong ride. Finally into Nowra for lunch at 1:00ish and Karl advises me it's 39 degress…YIKES!!! so much for the coast being cooler, darn! Fuel, air conditioning and Macca's in that order is our lunch stop. While we cool down we have a brilliant thought "light bulb above the head moment". Let's ring Lil Bro Dan and see if we can drop by and borrow his pool….ahhh brilliant idea. Anyways, Dan's not available so we leave a message to text if OK.
Lunch is over and now it's time to battle the nightmare traffic up the highway. This is not fun and it's still hot but we trudge on. We finally pull up at Dan's and are met with open arms and a huge welcome from the rest of the family. This family are the best, more than once now they have opened their home to us on our way home from a trip. Cosy in hand, give me two secs, cosy on and in the pool – sensational!!!
We do need to get home though, so we thank Dan and his family for having us yet again before gearing up again for the last hour home. Finally, in the drive and our holiday has come to an end L but you know what, there's also another ride to plan.
Kimmies camping experience a great success!! Will I do it again – you betcha!! Was Karl surprised with me – I think so.
p.s Just a little tip when you're on holidays, don't do laundry…..it's a dangerous task. The laundry basket attacked me…LOL
žPrelude
Weekend prior I purchased a Garmin Zumo 660 GPS, updating the Aldi GoPro I'd grown used to – very easy to use (read Kimmie proof here). So with another friend Phill headed to Breakfast Torque and then onto Robbo Pie Shop using the Zumo with the pre-programmed route I'd set. Well to say it was a success getting to Robbo is an understatement. You know the saying "it's a castle, it's a castle", well that was us….LOL. Took a road we've never ridden before and will not probably again. Encountered a little skippy hopping straight down the middle of the road heading for me….yikes (skippy averted)  and eventually we found the highway and made it to Robbo, laughing as you do.
DAY 1
More playing with the Zumo had me preloading the weekends day trips on Thursday night (hopefully with more success than previously). A lazy morning as we weren't able to get away until much later than we'd usually leave as Paul was earning brownie points (onya mate). Finally we are ready to leave McGraths Hill at some 10:00am. Not much traffic up the Putty and 10mile was hard work for me. New shoes on Angel and they didn't feel right. Had this horrible vibration so by the time I stopped where the boys had pulled up my arms were numb. Karl took some weight off the front and the world was much more betterer. First stop Singleton for fuel and I was given the task of setting lunch.
I'll give you the go, if you're heading toward Dungog through the back way (the roads are windy, the scenery is great, it's a bit bumpy but no worse than the rest of Bucketts but heaps gooderer then hitting the highway) and ya gotta stop at the Crossroads Café in Gresford. Lunch was fabo and it's nice an quite, just what we like – no hustle and bustle.
Onwards bound for Gloucester for more fuel and a message from Bendemeer Hotel saying I hadn't confirmed acco…..WHAAAT!!!! A quick call and everything is fine, someone forgot to mark my confirmation….disaster avoided Phew!! Now, Thunderbolts Way north of Gloucester is renowned for being crap but really it wasn't that bad. There's still a bit of red surface (was dry though) and as for the rest you ride to the conditions, don't be stupid and the world will be good.
A smoko stop at Carsons Lookout for Paul & Ryan and it would have to be the first time it's been clear to get a good look at the view – photo op naturally.
Come on boys, beer o'clock is calling and we still got a bit to go….onya bikes!!!! LOL
The rest of the way we chopped and changed lead and order but really just enjoyed the ride together – a good fit of skills. Into Walcha for a splash and dash and I crack the whip again – that beer is a callin'.
Finally into picturesque Bendemeer, get settled and we chat down by the crick with that old brew…..yeah!! Dinner is never a disappointment here and poor Ryans' eyes was bigger than his belly but in saying that he still managed to stow away dessert…lol and Paul, I reckon if you stuck him in the kitchen there'd be nothin' left for anyone else….boy that bloke can pack some food away – just where, is still to be determined!!
DAY 2
7:30am and we are on the road, excited somewhat cos we wanna enjoy the Oxley at a reasonable time and light (fingers crossed with no traffic). It's fresh….no not the boys the weather but noice!! Onwards to Armidale for breakky (for a big town not much is open early). We did find a café though and I had the best raisin toast for ages. Paul eats half the kitchen again….man where does this bloke put it? We just sit in amazement while he finishes. LET'S GO!!! Those famous words from Krazy Karl and we are off.
How nice is the road meandering up through the countryside to Ebor…Aa-mazing!!! Normally we'd just keep going but Karl surprisingly stops and says "why don't we check out the falls", I nearly fell off the bike – YAY.
. We are making good time and decide to head through Dorrigo (sorry Juan). Waterfall Way what a magically peace of road and guess what – very little traffic Yee Haw!!! and into Bell and Jen we roll for fuel and a cuppa. How much fun are we having, the smiles and laughs were a testament to that. LET'S Go!!! Sweety one day, I swear……. (nah, it's all good).
Some of the views you just can't beat. This is one of many and the road to get you there is well…….you'll just have to get up there and find out for ya self.
While we were in Bell and Jen, Karl parked his bike, but I'll be damned if i could find it…….let me know if you can!!
Now for the boring slab down the highway with the traffic and the speed camera's and the dopes in cages that don't give a shite that they have to share the road with others that help pay for it…grrr. Karl was thinking of me and knew I'd need food soon and decided to stop at Freddo's Pie Shop for lunch. WOW what a choice, they all looked so yummy. Unfortunately, looks can be deceiving and we were disappointed. Ryan mentioned that there's a back way to Wauchope, so we consult the map and get on the road again eager to reach the Oxley. The back road to Wauchope is a bit like Bucketts Way but avoids a heap of the highway and brings ya out right in the middle of town – awesome, well done Ryan. Fuel, some oil for Paul and lets go have some fun!!!!
A nice warming of the tyres til just past Long Flat (just to get you in the groove) and then "the sign" 45km of twisties – bring it on!! Karl & Paul were already gooone. I'd overtaken Ryan (we seemed to play tag most the time) and yee haw, I'm ready. Down a coupla gears and just listen to Angel roar (I mean sing, really it's the same)…lol. Virtually NO traffic, what, this is not heard of, but yes my friends it's true!!
What a magical run, not a gear change missed, the stars aligned and Angel, well she just roared her way through the mountain, Carving up the Oxley!!! Ryan had caught me up and passed but I tell you, we were but less than a minute apart when we arrived at Gingers to see Karl & Paul with huge smiles on their dials. I let rip with a WOO HOO before I even got the helmet off, what an awesome run (read your own expression here). Hop of quickly to check the rear tyre – SENSATIONAL!!
We have all earned a cuppa and a rest before heading up the top end, Big Sky Country and then Walcha.
Ryan offered me the 14, but alas I couldn't get it up… (story of my life). In the meantime, I'd had a bit of fun on the open sweepers on Angel before I came across Karl & Paul stopped on the side of the road. Karl frantically waved me through so I kept going but stopped a way up the road just to make sure all was good and got the camera out to get some action shots of the boys.
Ryan, done….waiting, waiting and then Jeep Jeep approaches with what, that's Paul riding Jeep (inserts laughing here). I could barely see him, Jeep just engulfed him…LOL with Karl close behind on the Rex (funny sight, see for yourself).
Now during the weekend each time Paul overtook me he'd be watching his mirrors waiting for me to bite him back, but would I do something like that……..hell yeah this time I did. I caught the boys (wasn't hard..lol) and watched them watching me in their mirrors and then…….bang – gooone. I could see the smile on Pauls face as I flew passed him heading to Walcha. Paul pulls up very gingerly and slips off the seat to plant his left foot and then waits for someone to put the stand down – sorry I could only have a laugh, Karl did the stand thing.
Dinner was in the Chinese restaurant in the pub and wasn't too bad, at least the chef was asian. Many many laughs were had and words of warning (from all of us) to Karl over his wardrobe malfunction…hmmm. Seems I had the apron on tonight and made tea for all before packing it in for the night.
DAY 3
A nice outdoors (fresh) breaky and we decide which way to head home – the vote went Thunderbolts Way. The trip home, well is the trip home. You just want to get there, well some of us anyways. Poor Ryan wasn't looking forward to getting home to go back to work after having 2 weeks off riding around the countryside (can't blame him really). The 4 of us are travelling well and making good time, so decide to stop for lunch at Grey Gums Café on the Putty. From our fresh start this morning, boy you could feel the heat of the day setting in as we travelled south and the layers are off…ah! We say our farewells and thanks for a great weekend and get on the road for that final stretch home.
We rolled into the drive around 4 after covering approx 1700 kays for the 3 days. Tyres are well and truly scrubbed in, and now it's time for a rest. After nap time folks…..see youse on the next adventure.
p.s a rare photo of Karl & I together
While Brains and Phill got busy with the job at hand, Paul and I decide to have a little wander and check out the scenery.
Several riders pass us while we are waiting and we wave and indicate all is good.
12.4 kays later we arrive in Yamba (he he) and we ALL fuel up this time and take a pic at the crossing.
Through the vineyards of Trentham and the citrus fields heading into Renmark, the scent is refreshing. It's a great morning for a FarRide. Mustered into the carpark by Muttley (ride co-ordinator) we park and I set about saying my hello's to all my friends and am loving introducing Karl (who most believe doesn't exist) as well as Paul, Phill and Brian (FarVirgins) to everyone. Coffee (thanks Paul), check in and these guys are now FarRiders. Lunch, socialising, words from our Messiah and it's time for a rest.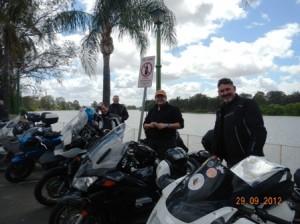 We all head of to our accomodation for a restful afternoon. All of those who chose to stay in Renmark headed to the Renmark Hotel for dinner. FarRiders is a fabulous group of like minded people that come from all over Oz and walks of life to say "g'day", share a meal, a story and then head off to where ever your path leads you.
Sunday morning and we get going at 7:30am ACST in search of FarChallenge pics for me (thanks guys). Have I mentioned it's chilly, this morning is no exception. First stop Pinnaroo for a bakery pic and we were hoping the bakery would be open for breakky….well it wasn't!!
The boys decide to stay while I head to Parilla for my next FarPic. Nice stretch of road and I get a short ride on my own
On the road back to Pinnaroo to meet the boys, I came across this unusual stack of hay
The long and meandering road that leads us to Manangatang where I thought there would be fuel and lunch but no. It's but a blip, blink and you'd all but miss it. It's here that Brian and Karl decide to do a bit of bike swapping. Now, I'd made a few comments about the ST1300 and Phill (ever so bravely) offers me his….WHAT are you sure about this? yep he was, and I handed him Angels keys. I rode the ST 84 kays to Swan Hill. How easy would it be for me to loose my license on this thing………HUGE. I can see the appeal for this humble STead as a FarWeapon, it's effortless, almost like cheating, I got NO buffeting at all (my head didn't even breach the top of the screen…LOL). Stoppin in the servo in Swan Hill all I could think of was "don't drop it when you stop", thankfully I didn't and was glad to be comfy back on Angel again.
Brian is leaving us today to visit friends in Echuca, so we say our farewells here before heading off again. We need to make Wangaratta this afternoon. Not much happening, just cruising until we pass through a little town before Echuca and one lone Mr Plod appears from a side street. We had been good citizens the whole trip and so we gave Mr Plod no reason to pursue us any longer than he felt the need to keep an eye on us. Into Echuca and we toot and wave as Brian peels off and we decide to stop for a cuppa at the next servo.
Come one, it's still chilly, getting late and I at least want to be in Wang before dark. We are following Karl and his GPS obviously had a different route to my GPS and I think we ended up going a bit further than we needed too. Anyways, we eventually make it to the Spume Hway (just before Brains almost takes a wrong turn and heads for Melbourne…What tha!!). Now in search for my next FarPic but by the time we pull into the servo it's just dark , no hope tonight Kimmie you'll have to get it in the morning.
Phill takes us to the all the best places for dinner and the Wangaratta RSL was the place tonight. The smallest RSL I've ever been in, but the food was awesome and dessert was even better.
 Now after the boys have had a few sherbets a discussion on how to get home tomorrow is underway. Straigt up the highway isn't an option and going through the Snowies is HI on the list. Only thing is it's -5 in Cabramurra and there was snow last night so I'm not a huge fan besides I don't have the right gear to keep warm (I'm already freezing and have everything on in my limited wardrobe). Lets sleep on it and see how we are in the morning.
Monday morning and there's due and a bit of frost….going through the Snowies isn't an option for me (I'm too cold), so the boys can do it if they want. Disappointed they travel with me up the highway to Goulburn but not before snagging my last FarPic for this journey.
How boring is the Spume. We haven't had breakky and it's cold….have I told you how cold it is. While I've travelled this way many times before the place to stop is the bakery in Holbrook. They sell great pies, B&E rolls and the hot chocolate and coffee isn't bad either.
Finally we hit Yass for fuel and then Goulburn and the turn off (thank god) to take us up the back way. Now Phill had talked about a pie for lunch in Taralga, so I was dreaming about a nice hot pie for lunch. When we get to Taralga we stop at the pub, beauty a homemade pie for lunch…..NOT! the pub don't sell pies. Phill heads to the other place in town but Karl had already ordered so maybe Phill will pop back with a pie. Paul and Karl eat their lunch while I pinch a few chippies from them. Phill pops back as says he had his pie….huff!! Twisty roads are the calling. It's been such a while since I've done any that you loose your ride eyes, so it's a steady pace for me (besides my tires are as square as damn house bricks). Into Oberon and we all have smiles on our dials. Turn right off Jenolan Caves Rd and we head for Bells Line of Road. The traffic on Bells is ridiculous, just a joke. So by the time we hit Bilpin we decide to pull off into a coffee shop for our last cuppa (and warm up too).
Phill says he knows this back way off Kurmond to avoid all this traffic, so after we say our farewells we follow Phills lead. WOW, the way he takes us is a great little secret that we are sure gonna use again (and no I'm NOT tellin yas). We wave Phill off at Norwest while Karl, Paul & I continue through and onto the M2. We wave to Paul as Karl & I take our off ramp and finally after 4 days make it home, safe and sound.
Total of 2768 kays for the 4 days. I have no idea how much fuel or the cost (but I'm sure Karl has it worked out to the litre). Another FarRide completed and Rule #1 obeyed. My FarRider friends finally believe Karl exists and my 3 FarVirgins Paul, Phill and Brian are now certified FarRiders – well done guys.
Bring on the next one.
Highlight of the trip…….I got to ride with my Sweety.
Waiting, waiting for the start to come around on Friday so Paul, Phill & I can get on the official part of the ride. Karl will be catching us up down the road. We collect Brian and it's 31 degrees at Pheasants Nest and oh boy, hoping the weather stays like this.
Well, ya know it wouldn't be a FarRide without a bit *cough* of rain and not far past Pheasants Nest we are blessed, not, with the ever impending rain and wind that goes with it on one of these rides. At Sutton Forest Brian indicates what I thought he meant by "need fuel" but alas I was mistaken and I find out later that his bike is not charging and is heading to Goulburn to have it rectified. Dereks rest stop and I decide to pull in cos the rain is just starting to get ridiculous and we, well Phill, Paul and me donned our wets.
By the time we get to Yass, it is absolutely pissing down and cold. Karl arrives and he gives us a hurry up and we get going again. It's stopped raining when we get to Wagga Wagga and is starting to get dark. Make the decision to have dinner in Narrandera (as per the plan…lol) and we keep going. Luckily with the rain stopped we have been able to make up a little time.
Narrandera welcome us in darkness and we see more FarRiders and while we are having dinner more FarRiders roll in. It 's great seeing other riders on route to our faraway destination, it makes the journey real!! In Karl's usual fashion, he finished dinner first and we hear the words "ready, let's GO !!", bite me or words to that effect escape my lips…LOL.
Only 170 kays to Hay now in total darkness and the old wildlife alert is on overdrive. Karl leads out will lights blazing lighting up the road like a runway. A bit up the road I take the lead and use my lights to do the same thing, to which Phill and Paul are grateful for. Karl and I run side by side for a bit, mum and dad take the lead, put a smile on my face to run side by side (you don't get to do that often).
Night riding is not my forte and Karl takes the lead again and it's not long before the guys all overtake me. I'm comfortable at sitting on $1.20 – 1.25 (by the speedo) and they soon get a lengthy lead on my pace. That's fine (OK, I'm a little annoyed) but I can now use my hi-beam and spotties for myself. We pull into Hay about 8:30, a little tired, a little cold but at least we aren't hungry.
Cuppa teas all round and some delicious slice that Kimmo made for Phill (thanks for sharing buddy) and we are all ready for bed.
See youse in the morning.
No pics today…….to damn wet and too cold.
Well I arrived home on Thursday afternoon at 5:30pm (a bit later than I had expected), with some 7229.4 kays travelled in the 13 days (average 556.1 kays per day).
I could've ridden for more to be honest. When an event finishes and you start to head home it does seem to take ages, but the last day….knowing you will be home that day, something changes how you feel and while I could've ridden more, I didn't want to.
The Black Dog cause is one that has touched my heart deeply and had Darani not sort help through them I wouldn't have known about the wonderful Institute. Over 500 riders took part in the event with over 200 of them (me included) going ALL THE WAY to the Red Centre-Alice Springs. As of the 30th August the Black Dog Ride 2012 has raised a whopping $234,000 for the Institute – well done! My personal fund raising effort has reached $7150.00 (the 6th overall highest individual fund raiser) which is all THANKS to YOU!!! for backing me in something that I truly believe in.
As you have read in my blog which has now gone nationwide, there were high's and lows to this journey / adventure / experience of a lifetime. I don't think it would have had the same impact if it were on a different date range. The 18th & 19th of August (our first 2 days) were of significant meaning to me. The 18th was the last day I saw and held Darani, the 19th, well she was gone. Those days were particularly difficult and had it not been for some wonderful people I've met I don't know how I could've continued. So thank you to Phil, Kim, Audrey, Noel & Brian for lending a shoulder, your hearts and your compassion as I proceeded to crumble at times – you guys are the best.
Solitude on the road is a wonderful place but also one that can be treacherous as it allows your mind to drift. In saying that, I had a moment on the road to The Barkly Homestead where I had to pull into a rest area and dry my face. It's here I met a couple, travelling nomads they are from WA. They saw the dog on the back and thought it was real…lol (that did happen quite a bit). Anyway they asked the question "what's it about?" so I proceeded to explain. The husband said "I wish I'd met you or known about the Black Dog Institute after the war, so I know what you are doing is admirable". His wife then comes back with a hand full of gold coins and gives it to me and said "go save someone sweetheart". I gave them both a hug and the details if they need them, to the institute before heading on the road again. Meeting people like these folk along the way and spreading the word made me feel extremely proud to be a part of the ride.
Angel performed beautifully and I can only thank her for looking after me while we travelled around the country. However, her shoes are as square as a house brick (to be expected though) due to all the straight road riding we did. Was an exciting moment though when we encountered a bend or even better when we actually got a corner. So Friday I spent most of the day giving her a well deserved bubble bath and service (the oil was yuk!) Angel is looking beautiful again and ready for the next trip.
Now luggage. If you are going to attend something like this IMO, a hard luggage setup is the go. It's easy to clip on and off and is waterproof and 99% dust proof. A little tip is to get or make some bag liners to put your gear in, inside the luggage, much more easier to open the pannier and take out a bag rather than take everything off…….so I'll be looking to make some liners for Karl's luggage which I borrowed.
There are so many people to thank so here goes;
Mum & Dad for raising me in the way you have and for being proud of my achievements, no matter how large or small.
The Gaffs (extended family) for being there through the trauma that the passing of a dear friend has left.
My workplace and boss, who have given me latitude to pursue this journey and supported me in a way I have not ever known a workplace to do before.
To Sam, Jessica and Lindsey, I cannot even put into words how much you mean to me. I'm sorry our efforts could not save your beautiful wife, mother and my best friend. Your unconditional welcoming of me into your family some 21 years ago is something I just don't know how to thank you for.
Finally, but by no means least, Karl. Karl you are my tower, my heart and my love and without your unconditional love and support there is NO WAY I could've gotten through the last 12 months let alone been able to partake on this journey. You have seen me at my best and my worst, warts, tears and all and been there to sop up every emotional eruption that has permeated from me. I hope I did you proud as I am as proud of you. I love you xxx
If the journey we riders and pillions have just embarked on has made one difference in one persons decision about life, then we have achieved a goal. Don't feel you are alone or have to deal with things on your own, you don't have too!! Reach out, it's hard but doable, you will be surprised at the response.
In closing, Darani, what can I say. I'm sorry we could not save you from the decision that you felt you must make. You are/were an inspiration to so many people (it's a shame you couldn't see it). I am such a better person for having had you in my life. You taught me about friendship, something I didn't really have until I met you, (amongst other things).  You are and will continue to be dearly missed my friend.
This ride was in the loving memory of my best friend Darani Jacqueline Salanitro, may you now rest in peace xxx
I've finally updated days 4, 5 & 6 with the missing photos. Sorry it took so long, but it actually takes a while to resize all the pics, then upload them to photobucket before loading them into the blog (which takes longer than I thought) and then resizing them again, so thanks for your patience.
Hope you enjoy them.
It was almost a shame to leave my cabin this morning, but I'm missing home and wanna be there tonight.The routine of unpacking, repacking and loading up Angel I now have down pat, so it's doesn't take long to get on the road.
But before I get going I just have to take some more shots of this fabulous place
look back at the cabins
On the road again, well that wasn't playing through my MP3 but it was Country Music none the same. The realism od heading home……
I should knock this over in no time. The best time of the day's ride for me is in the mornings. The air is crisp (a bit cooler than I was anticipating compared to what I've had previous mornings) but everything is waking, yep that includes the wildlife.
Goats were the flavour of this mornings run. They look so cute all huddled together grazing at the roadside and smart……these guys actually run away from you, now if you could only train the kangaskippyroos and emu we'd be laughin'.
For a change this morning I actually saw breathing skippies, feating on the roads edge. So with Rule #1 in mind (make it home safely), I slow right down, almost stop a few times and wait for the skippy to make it's mind up which way it's going, then I continue on.
Tawdling along, la lala la la, I come across this peaceful country pub with post office attached at Mulga
Now thedre isn't a lot to report back on axcept that the wind is picking up and  it's getting cool.
Next stop Nyngan for fuel, boy did that 205 kays goes quick. We'd passsed through here on the way to Alice but this time I went itno town. Fulled Angel and decided to go and get changed….I was way too cold and the lady in the servo said there is a cold front coming. So, all thermalled up again I head off.
Out of Nevertire you start to see canola fields, what a beautiful sight
Now I don't know if you can tell by the pic but eh wind is picking up and it's chilly.
Sorry there aren't anymore pics from here as I was a woman on a mission.
Todays plan was out the window and I had only one agenda, home and quick. I was supposed to stop in Narromine for a splash and dash according to my plan but I decided to push onto Dubbo instead. I ring Karl and he says "you're making good time Sweety", yep you better believe it. Donned another layer of thermal and get goin' for hoping to make Lithgow soon.
Well, the wind is reallyt blowing now and it's the chill factor is like freezing…..brrrrrr. My heated grips I'm having troubke with so by the time I get to Bathurst, the old hads are a bit stiff. I decide to pull into a servo and check out the problem. Can't see anything wrong, fuses are ok, no smouldering from electrics or anything obvious that I could tell. Anyway I thought, push on.
In the meantime, the traffic from Molong and the road works has become a joke and the "good time" I was making was fastly slipping from my fingers. There are signs today on the road warning you of "ice on the road"…..you're kiddin' aren't ya – ice, crap. So the pace has slowed to below the limit, there is NO ice but the wind chill factor certainly has "ice" in it.
I am so cold, that my fingers have frozen up on the bars and my body is ccccold, but this is what riding come with – all conditions ad you make the most of it.
Lthgow 17kays, couldn't cme quick enough, the traffic is like old woman, nattering while crossing the road – get a move on. Into Maccas, pry my fingers off the bars, pull the seat, ring Karl and try to figure out what's going on with my grips. It's so cold my teeth are chatting while I;m talking to him. It's just on 3pm and I tell him I'm gonna have a bite to eat and a hot chocolate to try and defrost, then out some more clothes on and my thermal glove liners before tackling Bells Line of Road.
Myt hair is almost blowing off my head again it's so windy but down Bells I go. Poor Angels shoes are soooo swuare it amkes corning with any speed difficult, so I take the cautious stand of instead of fighting the bellowing winds just sit behind a truck and try to take shelter from some of it. Needless to say it's a slow trip through the worst part of theis road but at least a safe option.
Finally wave hoo-roo to the truck and get going only to be slowed again by Sunday drivers (again not even doing the speed limit….grrrr). Do de do de do……..finally a break and I round these puppies up and gone, see ya later. North of Bilpin though I come across another road block, only a bus this time…..do de do de do. What's goin' on people can't you all tell I wanna get home TODAY!!!!
Down through Bellbird Hill and roll ever so slowly into Richmond. Afternoon traffic sux, give me the country roads any day. Richmond Rd, well at least we are doing the limit now and the M7 turn off is in sight. YAY home bound now only 30 minutes to go.
Hoe excited was I to pull into the drive tonight (a lot later than I had hoped) but at least I was home. However, where was everyone else. No Ella at the gate barking, no Karl coming to greet me…sad panda. So I let myself in, Karl's brother emerges from the lounge and Ella is going banana's…..mummy you're home!!!! lick lick lick.
Where's Karl??? nothing is wrong, but there have been some changes while I've been away (but that's another story that I don't wish to get into). So I unload Angel, give Ella hug mummy hugs and kisses, then proceed to unpack my stuff.
Karl finally arrives home and I fling myself into his arms like there is no tomorrow…I missed you soooooo much Sweety, kiss, kiss, kiss…
So here I was hoping for a good nights sleep in my own bed, but instead my head is a buzz and I can't sleep. So like any demented person, at stupid dark o'clock time since I've been awake , I decided to update the blog for y'all.
There are a couple of posts that I will update with pics now that I'm home and of course I'll add the bloopers page and add pics others have taken of me and a summary.
So for now the ride has ended but I don't think the journey that I undertook will, it was a life experience that I wish you could all see from my eyes and heart.