With my ride plan worked out on a napkin the night before and an excellent nights sleep under my belt, a cuppa tea and muesli bar for a starter and all Dudley all headed up we headed on into a beautiful start to the morning.
Up the Yanga Way toward Balranald and the sun is just rising, it's so peaceful and haven't seen any wildlife. There is nobody else about at the moment but I'm sure as the day goes on that will change.
Turn right at the Sturt Hway intersection at Balranald and head east along the Hay Plain to South Hay Caltex for breakfast – which wasn't that flash when I was really looking forward to it.
Now on the way over a coupla days ago, I wasn't able to stop in on Hell's Gate and see how cousin Shiela and Reg Sprinklersystem are doing but this morning, the weather conditions were much more favourable and I was able to stop for a bit. The property fencing has had an upgrade and is looking nice a new.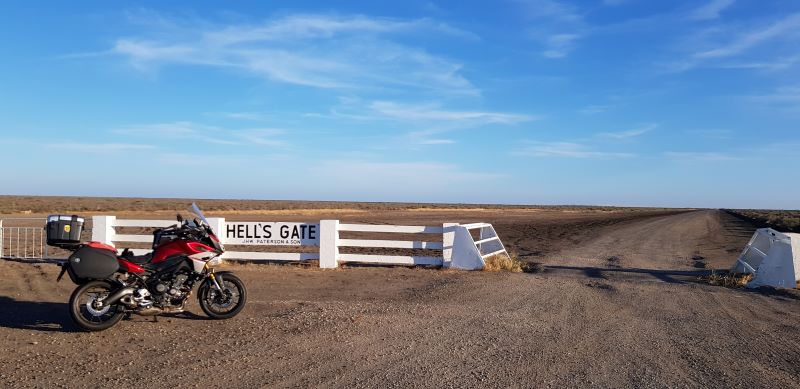 We headed north through Goolgowi then into Weethalle to see the Silo Art. Saw the red dirt and thought "oh no, not more" but it was reasonably well packed and there is ample parking, although the flies were really bad and they can keep them.
The Silo Art is one again amazing and the photos really don't do them justice. The level of detail the artists go to to capture the essence of their subject is astounding.
Do yourself a favour, map out some Silo or Water Tank Art and take a weekend to go and visit some. Spend a night in the caravan park, pub or motel and spend a coin or to in these regional areas….they could really use the support.
It's just after 11am, so it's through Grenfell (which I have just discovered also has their own additional to the Silo Art that I will have to come back to see) before rolling into West Wyalong for fuel and lunch.
I've never been here before. Past a couple just out of town heading home from the GTR meeting in Orange…Daisy & Reg, I'd recognize the 7ft Red Head anywhere 😁. There have been quite a few riders out and about this morning but not surprising given the beautiful weather conditions today.
Into Cowra and it's getting getting warm and Dudley and I are felling good. A little nervous about his tyres, so I find the local bike ship and pull into the car park to check out the situation (at least if required, I am in the right spot and can then find some acco for the night). However not required as tyres are holding up well so, it back out on the road heading for Bathurst.
Through the not so sleepy town today of Blayney and then the run into Bathurst…all very non-eventful. Mid afternoon about 3:30pm arrive, fuel Dudley up and grab a snack and cold water for the camelbak, find a park, facilities and take a short break. RIng Sweety and let him know "I am feeling good, so am comin' home". With my Cherry Ripe safely stowed in my tummy and the spurring on of the run home Dudley and I are raring to go.
There really are some numpty heads on the road but we don't let them dampen our spirits as we head into Lithgow and make the run down the hill. Being a Monday the traffic on Bells Line of Road is as congested as it is on the weekends but there is still the odd cage driver that believes they require all the lanes of the road and I'm sure they figure cos I don't take up all my lane…well I don't require it.
North Richmond and on I hit the people heading home from their days work. Finally onto the M7 / M2 and it's the usual run home from there.
Into the driveway at home just before 6:00pm and couldn't wait to see Sweety. Total for the 5 days riding 3213km. Dudley is very grubby and in need of a well earned bubble bath and for that matter so am I.
Another adventure completed and a great time was had. Dudley booked for his new shoes and really enjoyed his bubble bath 🙂